Essential Rhythms was established in 2001 and as such have been providing community and corporate group drum circles for over 20 years.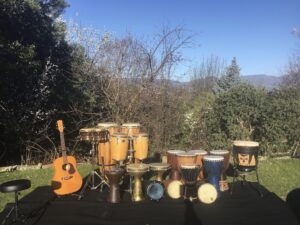 Using traditional percussion instruments we facilitate groups, teams, and classrooms to play, create and connect through musical rhythm.
Tailoring and contextualizing our drum circles to the dynamics and environment of the participants allows for full inclusiveness of all abilities.
We provide drum stands and use alternative methods for participants who cannot physically hold the drums.
Our facilitators are qualified in Certificate IV Training and Assessing (TAE40116) and have current National Police Checks and valid Working With Children Checks.